What is the YPO Framework?

Vehicle Hire, Lease and Purchase Portal – 799 is the YPO framework agreement which allows authorities and other OCAs to procure their needs for car and LCV hire, specialist vehicle hire and car and LCV lease and purchase (including minibuses). The framework is designed to meet the needs of all public sector bodies' requirements and can be used by any contracting authority, local authority or public body during the life of the framework, as defined in section 2 of the Public Contracts Regulations 2015.
Key Driver for YPO Approach
To aggregate requirements and spend to exert maximum leverage on the market, with the aim of delivering efficiencies and cost savings to customers.
To reduce procurement process costs for customers by providing a quick and efficient route to market in line with EU regulations.
This framework provides customers with a route to market for all vehicle hire lease and purchase requirements, meaning customers do not need to publish their requirements by OJEU or pre-qualify suppliers in order to procure services from them.
Benefits of Using The Framework
Reduced Timescales – Customers do not need to run a full OJEU Procurement if procuring via this framework agreements, as this has already been undertaken by YPO. Customer will simply need to identify their requirements, present these to the market and award a contract.
Suppliers will also benefit from this, as they only need to complete one OJEU procurement.
Ease of use – The framework is simple to use, with expert procurement advice available from YPO and GMP Drivercare.
Choice of supplier – The framework offers excellent choice in suppliers.
Legality – The framework is fully legal and in line with EU regulations, as EU procurement rules introduced in 2006 specifically recognise framework agreements as a legitimate route to market. This reduces procurement risk for customers, and reduces bureaucracy in the procurement process.
Aggregation of spend – Customers will receive the benefits of an aggregated volume of spend and the benefits associated with an increased leverage on the market.
If you have any queries, or wish to discuss your requirement or the framework agreement in detail, please use the details below:
Ian Reed (Category Manager)
Tel: 07814 290 587
Email: ian.reed@ypo.co.uk
Sue Hughes (Further Competition Co-ordinator)
Tel: 01924 834 814
Email: sue.hughes@ypo.co.uk
Scott Hesketh (Buyer – Fleet)
Tel: 07741 660 272
Email: scott.hesketh@ypo.co.uk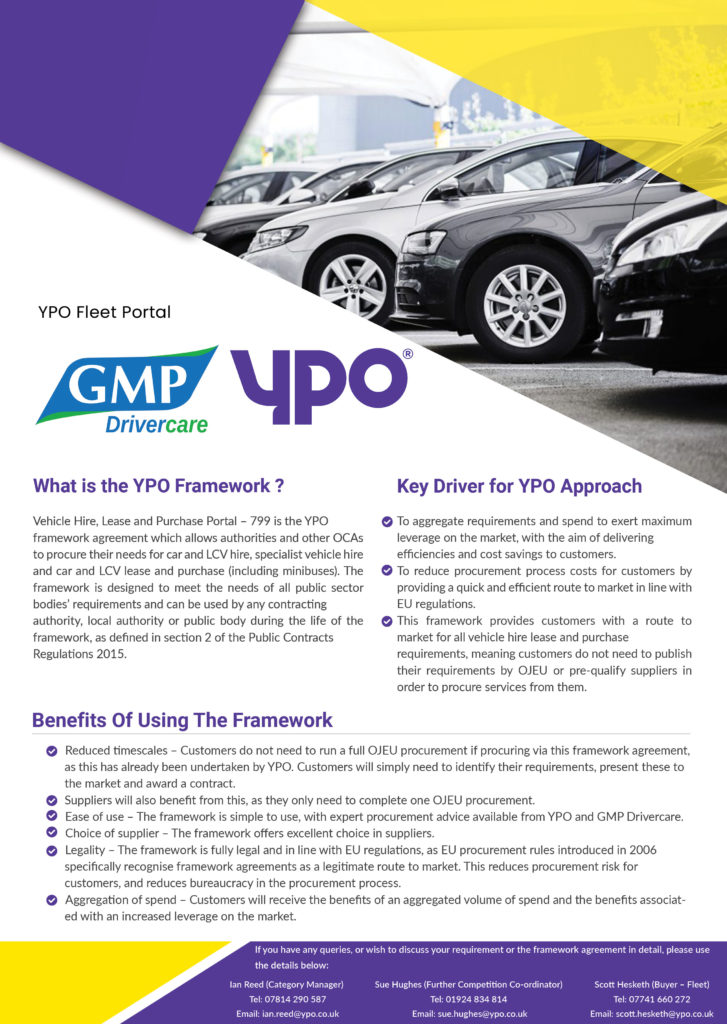 Please visit Services page for other Fleet Management Solutions by GMP Drivercare. 
Did you read our Driverlink Magazine at https://www.driverlinkmagazine.com